Founders

& Family Owners

American Heritage National Bank is a historic tradition of family-owned banking over four generations with the heritage of more than just money, our business is to serve you:
1881-1945

Henry W. Schroeder began his banking career in 1906, after William E. Lee established the "Lee State Bank" in Long Prairie in 1881 with the bank's President, George R. Christie. Under Henry's leadership, the bank was a foundation of the community through both World War I and World War II. During the Great Depression, Henry's commitment to bank customers went so far as to extend his own personal assets to save homes, family farms, and local businesses until he passed away in 1975.
1946-1977
Roland A. Schroeder, Henry's son, joined the bank in 1946 after returning from World War II. In the US Army, Roland was awarded the Bronze Star for his Signal Battalion's mission leading up to the D-Day invasion and joined the XV Corps advance through Europe to VE-Day. In 1963, the bank switched from a state charter to national charter and was renamed the "First National Bank of Long Prairie". Roland served as the bank's President and Chairman of the Board until 1986 and passed away in 1991.
1978-2001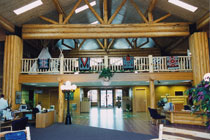 Rodger J. Johnston, Roland's son-in-law, joined the bank in 1978 after practicing law and establishing several successful businesses. In 1985, the Lee State Bank of Browerville was acquired to become a current branch of the bank. As CEO and Chairman, Rodger then orchestrated the expansion and construction of both log bank branches in St. Cloud that elevated it to one of the largest family-owned and operated banks in Minnesota. In 1995, the bank was renamed "American Heritage National Bank" to represent its family tradition and commitment to customers. Leonard (Len) Wohlman became the bank's President in 1999 after years of dedicated banking service in the St. Cloud area and continues to serve on the bank's Board of Directors.
2002-Present
J (Jay) Christopher Johnston, Rodger's son, joined the bank in 2002 after practicing business and government law in Illinois and Minneapolis. Jay is the fourth generation as the great-grandson of H.W. Schroeder and continues the heritage of family bank owners dedicated to the local community and its people. After leading the bank's credit and business banking departments, he was made the bank's President and Legal Counsel in 2008. With his continued leadership through the Great Recession, Jay became the CEO in 2011 and American Heritage National Bank celebrated its 130th Year Anniversary.